▶ FOR THE BIRDS' LABEL:
* NEW * For the Birds compilations are now available for online download at our Bandcamp! [Link to come soon]

FTB-001 | The Big She-Bang compilation: Featuring: Slingshot Dakota, Little Lungs, Acidophilus Bifidus, Blonde Ambition, Cheeky, Aye Nako!, Each Other's Mothers, Floral Beef, Carnal Knowledge, Hand Jobs, Amelia Jackie, Dead Dog, Jettison Sister, Cara Beth Satalino, Kate Ferencz, The Measure (SA), P.S. Eliot, Julie Karr – available on cassette tape and CD.
****
FTB-002 | GIMME COOTIES compilation: Features 18 live tracks of all girl/girl fronted bands in Brooklyn and the surrounding East coast area. These tracks were recorded throughout 2008-9 in basements and all ages/DIY spaces, and have been compiled to document a new wave of badass girls playing music and to reinforce the notion that the upkeep of grrrl punk love is contagious. Don't get your cootie shots. Listen to this comp. Now go start a band with your girlfriends. Tracks include songs by: Carnal Knowledge (RIP), Cheeky, Bad Dates (RIP), Screaming Females, Witches, Trophy Wife, Each Other's Mothers, The Homewreckers, and Handjobs. Available on CD.
****
FTB-003 | The Best of the Nest compilation: featuring: Grass Widow, Brilliant Colors, Ina! Ina!, Zombie Dogs, The Offsides, Tuberculosis, Death First, The Homewreckers, Songs for Moms, Sourpatch, Dirty Marquee, Fleabag, Worrier, Partyline, Saffire, Nuclear Family, Foreign Objects, Fatal Erection, Condenada, Grocery Thief, Ke Chu-Cha — available on cassette tape and CD.
****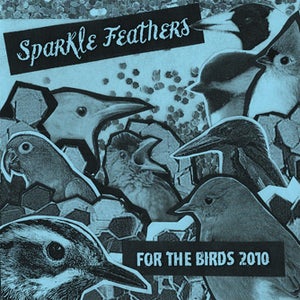 FTB-004 | Sparkle Feathers Compilation featuring: The Cathy Santonies, Arctic Flowers, Scantron, The Two Funerals, Circuits, Little Lungs, VOG, Teen Wolves, Shellshag, Noun, Surrender, Street Legal, The Missionaries, Black Wine, Caves, Rad Pony, The Last Internationale and Bell's Roar.
****
FTB-005 | Flock Rock Compilation: 14 Tracks compiled in honor of our Birds of Summer 2011 Event Series! Featuring cover art by Liz Prince and songs from: Small Bones, New Creases, Livid, Daylight Robbery, Weird TV, Very Okay, Dear Marje, These Days, Sparkleshit, Trophy Wife, Nu-kle-er blast suntan, Cat Vet, Bone Black and Hot Mess!